Leading Histopathology Service Provider Expands Its Specimen Storage Capacity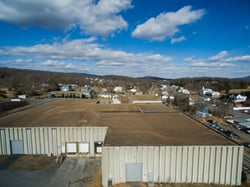 Mount Jackson, VA — April 27, 2016 — Histo-Scientific Research Laboratories (HSRL), a leading provider of histology, pathology, and archiving services, today announced the opening of its new 1 million cubic foot storage specimen facility. The facility, located about an hour west of Washington, allows HSRL to safely store over 1,000,000 cubic feet of ambient materials and over 5,000 cubic feet of refrigerated and frozen specimens.
"With a push by several pharmaceutical companies to move all of their research materials offsite, it was imperative that more space be placed online," says Ed Galati, HSRL's Vice President of Archiving Operations. "Now, we can handle just about any size client because of our new building's capacity," added Ed. Among the features of the storage specimen facility:
More than 1 million cubic feet of ambient storage
Ultra-low storage capabilities
GLP compliant facility
Backup generators
FM-200 fire suppression
For more information about HSRL's high-quality services, visit the company's website at http://www.hsrl.org.
About HSRL
HSRL was established with one goal in mind: To provide the highest quality histology, pathology, and specimen storage services. Each team member takes the time and consideration to ensure each study is given the time and attention it requires. HSRL's staff is committed to scientific integrity and superior responsiveness to client needs. HSRL provides their services to other contract research organizations, drug discovery, biotechnology, medical device and pharmaceuticals companies, clinics, academic institutions, and government agencies. To learn more, visit http://www.hsrl.org.
Contact
Tom Galati, CEO and Founder
HSRL, Inc.
5930 Main Street, Mount Jackson, VA 22842
(540) 477-4440
tomgalati@hsrl.org