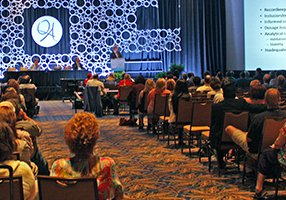 After a highly successful expo last month at the Society of Toxicology, HSRL is pleased to be attending the 32nd SQA Annual Meeting and Quality College in Grapevine, Texas on April 3-8, 2016. HSRL's Quality Assurance Unit is a key component to our success. HSRL's QAU audits 100% of our histopathology data, performs facility inspections annually, and ensures all of our services adhere to HSRL SOPs as well as GLPs.
The SQA Annual Meeting is the premier event for QA professionals in the preclinical and clinical research fields. Conference materials describe the college as including "training and concurrent sessions dedicated to promoting and advancing the principles and knowledge of quality assurance essential to human, animal and environmental health worldwide. SQA will present a program of interest to QA professionals, management, study personnel and regulatory authorities." Over 800 attendees from around the world are expected to attend the 2016 event.
The theme of this year's meeting is "Cultivating a Culture of Quality" and includes topics ranging from GLP regulations to bioanalysis and biotechnology to data integrity to scientific archiving.
HSRL will be exhibiting in booth #200. Stop by and say hi. We'd love to chat about your histology, pathology, and archiving goals for 2016!
Learn more about the 32nd Society of Quality Assurance Meeting »
Header image copyright Society of Quality Assurance 2016.