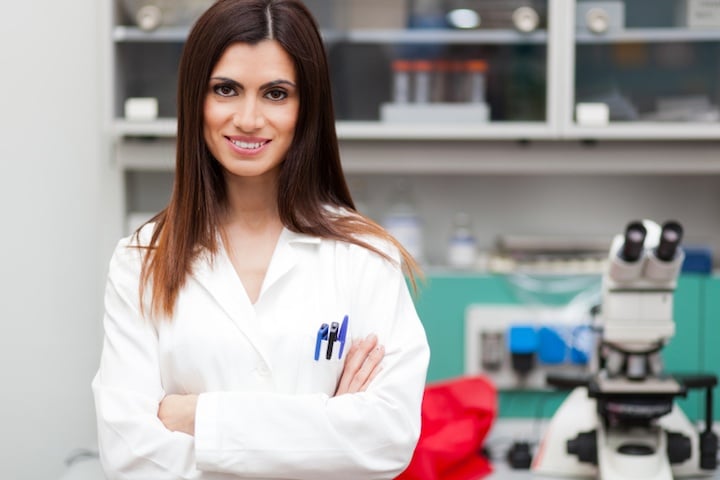 You have an anxious sponsor waiting for their pathology report or prepared microscope slides. Workloads are high and you don't have the staff to get the work done on time and on budget. What do you do? Outsource!
Outsourcing necropsy, histology, and pathology services continues to increase as CROs strive to maximize their resources, increase their productivity, and expand their capabilities without expanding their workforce. Many organizations have come to see that outsourcing can seamlessly offer the same quality of work for prices competitive enough to be less expensive than internal operations.
There are many variables to consider when searching for a laboratory to outsource your study to. Ultimately, your goal is to find a research partner who can get the work you need done right, on time, and on budget.
HSRL's latest ebook is an outsourcing checklist to help you determine the qualifications of each contract laboratory and find the service provider you need. This resource includes sections on the following:
Scientific and Technical Expertise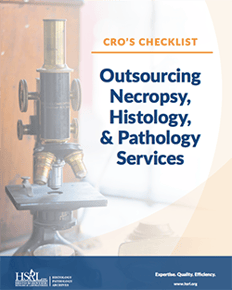 Locating a histopathology service provider with the scientific and technical expertise to handle the unique requirements of your study is priority number one. There are many reputable laboratories offering necropsy, histology, and/or pathology services. However, finding the research partner with the expertise and flexibility to handle the special needs of your study without major glitches is challenging. Some sample questions include:

What services do they offer that can assist you?

Are their Veterinary Pathologist ACVP board-certified?

What are the unique interests, skills and/or accomplishments of each pathologist on site?
Regulatory Compliance and Quality Assurance
To be successful, your study must be conducted in a manner that produces reliable data and complies with any and all applicable regulatory requirements. These regulating bodies may differ depending on the phase of your study and where the testing is being performed. If you intend to submit study data to the FDA, at the very least, you'll want to ensure compliance with GLPs. A few of the questions for the laboratory include:

Is there documented evidence of successful FDA audits?

Are there SOPs in place to govern all study-related tasks?

Is there an in-house Quality Assurance department?
Customer Service
Finding a caring and responsive histopathology service provider who understands your needs and works to deliver on your expectations is a key component to a cohesive outsourcing relationship. Checking in with client references is one way to get insight into how satisfied other customers are with the service and how satisfied you may be should you choose to work with a particular contract laboratory. However, if you pay attention and ask the right questions, you'll increase your chances of finding the information you need to make a good decision. Some items to ask are:
Upon initial contact, do they listen carefully to your needs and talk through your study requirements?

When checking customer references, do they report issues with timeliness or quality?

Do they offer flexible line item pricing for a la carte services so you only pay for what you need?
Get the Rest of the Checklist
As CROs endeavor to do more with less, outsourcing necropsy, histology, and pathology services has increasingly become a common option. There is a lot to consider when searching for a contract histopathology laboratory who can meet your needs. Using this checklist will help you identify laboratories capable of handling the unique needs of your study.