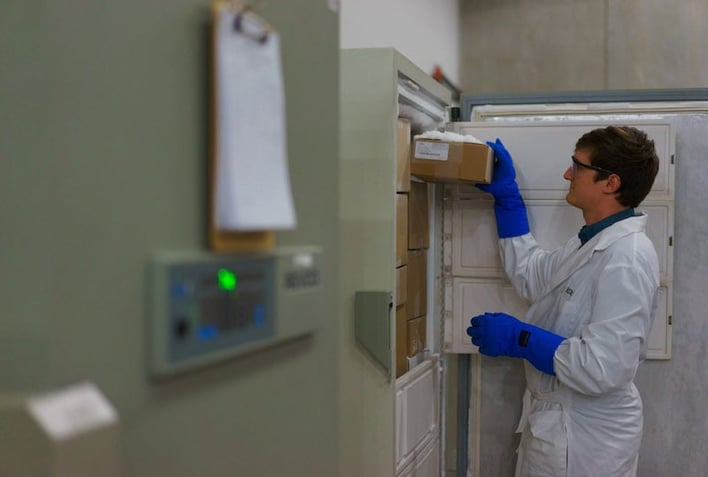 Your GLP study materials are irreplaceable, as they contain all the information about what procedures were done, how they were performed, when the work was completed, and who performed the task. Without data, nothing else really matters. That's why it's critical that you ensure your study materials are stored safely and in compliance with Good Laboratory Practices (GLPs). All study materials, data and specimens, must be retained and easily retrievable after study completion. GLPs state "There shall be archives for orderly storage and expedient retrieval of all raw data, documentation, protocols, specimens, and interim and final reports. Conditions of storage shall minimize deterioration of the documents or specimens in accordance with the requirements for the time period of their retention and the nature of the documents or specimens."
Standard Operating Procedures (SOPs)
Standard Operating Procedures should govern all aspects of the storage and retrieval process. These documents specify what steps should be taken each and every time a task is performed. It's a good idea to review all SOPs pertaining to the storage of your study materials and ensure that the procedures being outlined are actually occurring in that manner.
Key Questions:
Are there current SOPs in place?

Are SOPs reviewed annually?

Is there documented evidence of staff training?
Storage Facilities
Access to the facility where study materials are being stored should be limited and controlled.
The building should be able to withstand inclement weather, such as flooding and have controls for temperature, humidity, and ventilation. Storing raw data in fireproof cabinets is common as is the use of water sprinkler systems to suppress accidental fires. A waterless fire suppression system like Dupont's FM-200 is more ideal since a water based system can destroy paper data and paraffin blocks could be destroyed before a fire is detected and the sprinklers activate.
Study materials should be retained in ambient, refrigerated or freezing temperatures for the period defined by the protocol, Study Director and/or regulations. Back-up power is also desirable to protect against power outages, especially to refrigerators and freezers where specimens may be stored.
Key Questions:
What study materials get stored and how?

Are paper documents stored in low humidity areas away from specimens containing formaldehyde to prevent deterioration?

How are the temperatures for refrigerators and freezers monitored?

What security systems are in place to control and monitor access to study materials?

Is there a tracking system in place to help easily locate and retrieve materials stored in larger archives?

Is there 24-hour retrieval of materials IF the sponsor, client or FDA wants to see materials?

What kind of fire protection is utilized?

Is there a generator with an automatic transfer switch in case of a power failure?
Archiving Electronic Raw Data
The same GLPs apply to the archival of electronic raw data. The hardware and software must be formally validated before being used to generate and store data. Maintenance, backup, disaster plans need to be defined along with guidelines for obsolescence and migration to a new system.
Key Questions:
Does the storage facility adhere to FDA requirements for Electronic Records - 21 CFR Part 11?

Is there a recovery and restoration plan in the event of lost, damaged or compromised electronic data?

Is electronic media stored in a manner that protects it from dust or magnetic interference?
Quality Assurance
Having an active and engaged Quality Assurance (QA) department that oversees the regulatory compliance of study archiving is essential to ensuring that your GLP study materials are being stored safely. QA monitoring for GLP compliance involves performing audits of the facilities to make sure it's fit for use, observing how personnel perform tasks to ensure SOP compliance and reviewing supporting documents to check that it accurately reflects the work being performed and the documents supporting that work.
Key Questions:
Is there an onsite Quality Assurance Unit?

When was the last time the facility was audited by the FDA?

What were the results of the last FDA audit?
The ability to find your materials in a timely fashion is important. Keeping your study documents and other raw data stored safely is a critical part of your research endeavors. Ensuring that your documents and specimens are stored safely and according to Good Laboratory Practices is fundamental to the success of your study.
Learn more about how HSRL keeps GLP study materials safe by visiting www.hsrl.org.