An Explanation of Immunohistochemistry and Immunofluorescence—and an Overview of Their Benefits
We receive a lot of questions regarding immunohistochemistry (IHC) and immunofluorescence (IF) molecular assays and how they can benefit pre-clinical and clinical research. So much so, we decided to hold a webinar on the topic to educate pathologists, toxicologists, pharmacologists, and others on how:
IHC can improve research efforts

Including IHC and IF in research can increase support for data in an investigational new drug (IND) application or an FDA submission

To help reviewers evaluate your submission data
If you couldn't make the webinar or would like a recap of what we covered, my fellow speakers and I are releasing a series of blog posts to highlight the benefits of IHC and IF. This is the first of what will be three blog posts in total, so we'll focus here on defining IHC and IF and how they can benefit your research.
What are IHC and IF?
IHC and IF are molecular assays that involve the use of antibodies to detect specific targets within tissues on microscope slides. Generally, these assays are used to detect particular endogenous or exogenous proteins or peptide sequences.
Antibody assays are useful because antibodies can achieve a higher degree of target specificity, allowing for the determination of minor differences in what are otherwise functionally the same target. But unlike other antibody assays, IHC makes it possible for researchers to visualize exactly where proteins are localized within tissues.
Traditional IHC uses an enzyme linked to a primary detecting antibody—known as direct detection—or to a secondary signal-amplifying antibody. The enzyme catalyzes the conversion of a dye or chromogen that allows visualization of the tissue and cellular localization of the target, including specific cell types and even sub-cellular localization such as the cell membrane, cell cytoplasm, or cell nucleus. A common counterstain can be used to best describe target expression in relation to tissue and cell morphology.
When using an IF assay, the chromogen is replaced with one of a number of fluorochromes, which exhibit specific emission spectra. This enables researchers to detect and distinguish multiple targets in a section, which means they can examine where two targets might overlap in expression within a tissue or cell (co-localizing). Researchers can also conduct multiplexing to examine three or more targets in one section.
IF uses dark-field microscopy, so the high contrast between the fluorochrome emission and black background is ideal for image analysis.
An example of an IF slide
Tau proteins are green and MAP2 proteins are in red. The blue coloring indicates a nuclear counterstain (DAPI).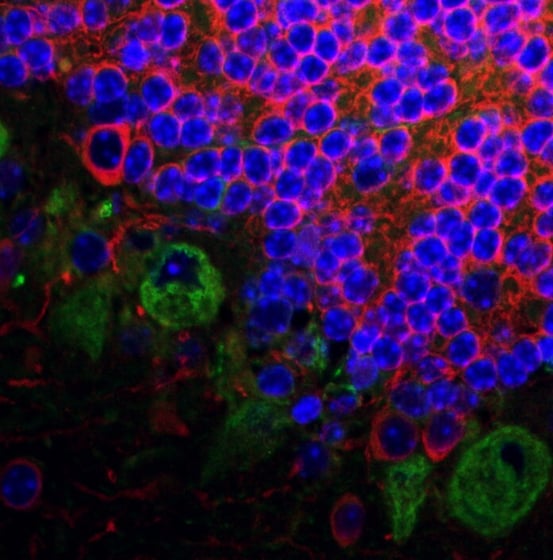 What are the benefits of including IHC or IF in your research?
Because they're tissue-based assays, IHC and IF can provide cellular identity within context of the tissue. This leads to multiple benefits when you include either IHC or IF in your research. For starters, you can use IHC or IF to look for and identify biomarkers of efficacy and toxicity related to your compound of interest. You can also use IHC and IF to examine biodistribution, gaining a better visual understanding of where your target is found in relation to tissues or cells throughout the body. Other research tasks where IHC and IF can add value include:
Target validation

Tissue cross-reactivity studies

Diagnostic purposes
What are some applications of IHC and IF in non-clinical studies?
You can use IHC or IF to elaborate certain biomarkers. For example, markers of cell death, toxic injury, or disease.
Additionally, you can also conduct a variety of biodistribution studies. IHC can be used for reporter molecules—such as green fluorescent protein (GFP) tags—that are a part of any gene therapy studies you have planned. And IF multiplexing can be used to look for cell markers, GFP tags, or reporter molecules to identify cell types are transduced by a particular molecule.
If your test articles are tagged (fluorescent tags, HA tags, FLAG tags, etc.), then you can also learn where those molecules might be found.
An example of an IHC slide
Molecules elaborated within a mouse spleen using an anti-GFP tag antibody.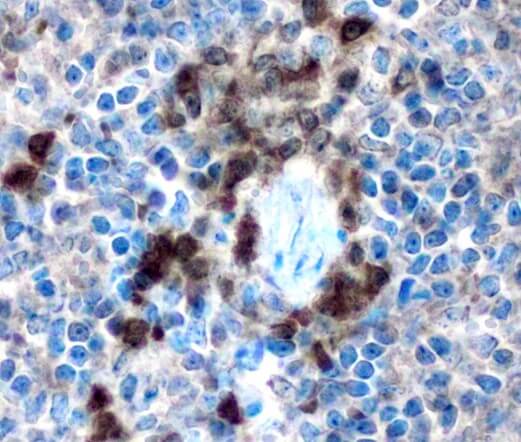 Conclusion
Learn about more applications of IHC and IF in our next blog post in the series. Or, if you're ready to learn more about the benefits of outsourcing your IHC/IF research and how StageBio can support you, contact us here.