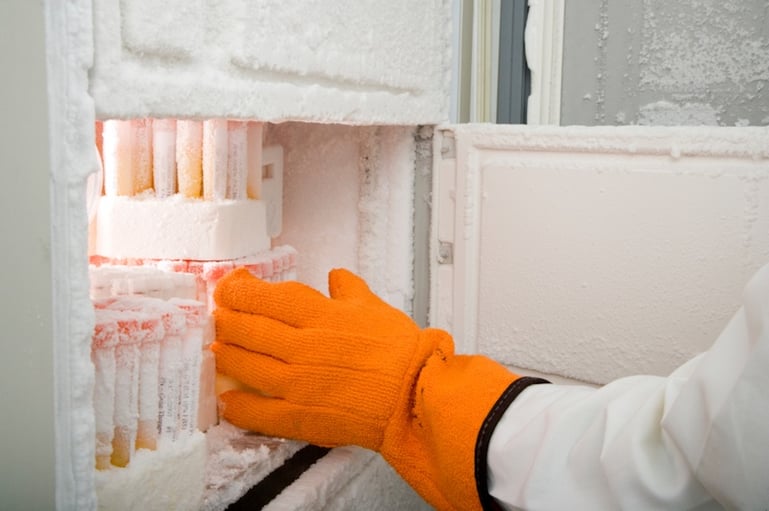 Contract Research Organizations, biorepositories, and researchers globally store billions of specimens such as tissues, plasma, urine and other fluids for future use. In order to preserve the integrity of these samples, they must be collected and stored under optimal conditions. While storing biospecimens at −20°C has been a common practice, samples for long-term storage are increasingly being kept in ultralow temperatures ranging from −70°C and −80°C to prevent sample degradation.
Having sound specimen collection procedures in place is the first step to ensuring your specimen is well protected. Screw-cap cryovials which are typically made of polypropylene and polystyrene are standard collection containers for long-term, low temperature storage. However, without reliable temperature control, the degradation of specimens can still occur long after being placed into frozen storage.
Unwanted freeze-thaw cycles can negatively impact the quality of a specimen and potentially render it useless. Back in 2012, the Wall-Street Journal reported on the catastrophic loss of brain specimens being stored for autism research. The cause? A freezer failure undetected by the alarm system. Ensuring your ultralow frozen materials are being stored properly means having a robust quality control system in place to monitor and manage temperatures. That system should include:
Standard Operating Procedures (SOPs)
All aspects of the specimen storage and retrieval process should be governed by SOPs. Standard Operating Procedures give step by step instructions on how to perform a particular task in order to maintain consistency and quality. When retrieving samples, procedures should instruct staff to handle frozen materials efficiently in order to minimize their time in ambient conditions. Moreover, there should be documented evidence of training for all staff members involved in the storage and retrieval process.
Routine Maintenance
To ensure all freezers continue working at peak performance, routine maintenance should be performed and documented as suggested by the manufacturer. Weekly/monthly/annual maintenance plans ensure storage systems are maintained properly and working effectively. Routine maintenance may include: ensuring the temperature display is accurately calibrated, inspecting the door seals, reviewing temperature alarms and/or replacing the air filters. Freezers should be inspected and re-calibrated by a qualified outside vendor on at least an annual basis.
Security Measures and Contingency plans
When it comes to specimen storage, it's best to assume Murphy's Law, "Everything that can go wrong, will go wrong." Major mechanical breakdowns or power failures are always a risk. Here's some tips for managing that risk:
24/7 Temperature Monitoring
Around the clock monitoring is vital for ensuring specimens are maintained at the desired temperature.The storage facility should have an alarm network in place that alerts staff to fluctuations in temperature or power failure. Testing the function of the alarms should be part of routine maintenance.
Individual Electrical Circuits
Each freezer should be hard wired such that they each have their own individual electrical circuit to reduce the chances of current overload.
In case of complete power failure, storage facilities should have backup generators with an automatic transfer switch.
Several empty freezers should be calibrated, maintained and plugged in at all times. In the event that a freezer malfunctions or ceases to operate, you would be ready to move the materials from the broken freezer to a working freezer without risking your frozen specimens.
Losing irreplaceable specimens or biological data to improper storage conditions can be devastating to the sponsor's research and the CRO's reputation. Keep your study on the right track by ensuring your ultralow frozen materials are properly stored.