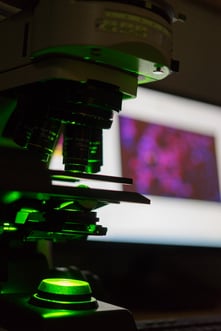 Is your research organization harnessing the transformational power of digital pathology? Ongoing developments in the application of virtual microscopy and digital pathology systems are transforming research on a global scale. Advances in pathology image management and analysis are creating new avenues for discovery, collaboration, and efficiency in preclinical research. If cost or logistics are hindering your organization's entry into the digital arena, take advantage of technological innovations by building a digital pathology partnership with a proven histology and pathology services provider.
Whole Slide Imaging in Digital Pathology
Quality whole slide imaging is central to the effective use of digital pathology systems. Whole slide scanners generate computer images of conventional glass microscope slides at specific resolutions. The role of whole slide scanning in preclinical research is steadily growing. Virtual slides combine the quality of conventional microscopy with conveniences that go well beyond the simple viewing of images. Unlike their traditional counterparts, virtual slides can be shared and accessed remotely by multiple users for review, discussion, and publication. Electronic storage and databases make it easy to archive, search, and retrieve histopathology images, and digital slides do not fade or deteriorate over time.
The adoption of digital slide technology in preclinical research can bring a number of potential advantages, including standardized slide grading, collaborations with other pathologists or scientists, and a faster progression through the slide evaluation process. The Digital Pathology Association recognizes that the use of whole slide images to perform such tasks as identifying and quantifying key reactions or characteristics in tissue samples can reduce total research time and possibly shorten the road to medical advancements.
Looking for a Partner for Quality Whole Slide Scanning
Whole microscope slide scanning services from a reputable partner help research organizations make the most of advancements in digital pathology.
Look for a vendor that offers:
Quality images:

Can they convert your glass slides into high-quality digital images at several resolutions, including 2x, 4x, 10x, 20x, and 40x?

Flexibility:

Do they offer both brightfield and fluorescence scanning, with single-, double-, and triple-labeled scanning capability?

Accessibility:

Can your virtual slides be viewed remotely using online image software, or do you prefer to receive a USB drive?

Integration of services:

Does the lab offer other

services

, such as

morphometry/image analysis

, which can offer additional data for your project?
Conclusion
Predictions about the application of new technologies in science and research are not always accurate. But with its power to connect researchers and laboratories around the globe, the emergence of digital pathology as a research necessity seems inevitable. The rise of web-based image repositories means that pathologists, study directors, researchers and the population at large all have the opportunity to discover virtual microscopy, bringing digital pathology into the larger arena.
With increased awareness of the advantages of digital pathology, the demand for new standards of technology in research imaging will no doubt intensify. As the boundaries of digital pathology evolve, so will expectations surrounding the quality and standardization of visual information.
HSRL is committed to staying ahead of the game when it comes to digital pathology offerings, and to helping research organizations navigate the digital transformation.